Image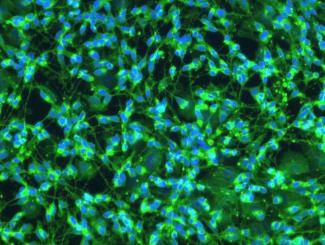 Human Neuroblastoma Cell Differentiation on HuGentra
LifeNet Health LifeSciences' innovation pipeline includes our proprietary extracellular matrices (ECMs):
Both ECMs are wholly-owned by LifeNet Health LifeSciences, and are derived from human tissue, thereby assisting in replicating the human microenvironment in vivo.
HuBiogel is a hydrogel that is predominantly collagen I, collagen IV, and laminin, and is derived from human amnion tissue. It is optimized to support 3D microtumor growth and is only available through LifeSciences' Oncology Testing Services.
HuGentra is a collagen-based hydrogel that contains several growth factors, including epidermal growth factor, fibroblast growth factor, insulin-like growth factor, vascular endothelial growth factor, and transforming growth factor. It is produced from human placentas using LifeSciences' proprietary decellularization process, which is specifically designed to omit harsh, protein-denaturing conditions. HuGentra supports both 2D and 3D cell culture applications and is intended for research use only.