Image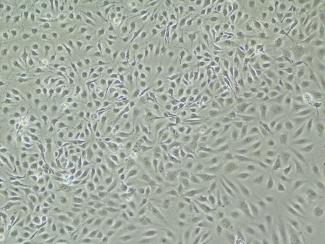 Body
Primary Human Liver Endothelial Cells
Liver endothelial cells play a prominent role in maintaining overall liver homeostasis and are suitable for a wide range of research applications.
LifeNet Health LifeSciences' liver-derived endothelial cells are isolated from whole livers, resulting in a mixture of vascular and sinusoidal endothelial cells.
Comprehensive donor medical and social history provided
Histopathology report includes Non-Alcoholic Fatty Liver Disease (NAFLD) activity score (NAS) along with H&E and Trichrome stained images
Donor-matched cells and tissue samples
Cells from healthy and diseased tissue
Detailed protocols and media recommendations provided
Access to technical expertise and guidance from LifeSciences' team of scientists
Viability ≥80%
Yield ≥1.0 X 106 cells/vial
Positive expression of CD31, CD146, CD45, LYVE-1, and von Willebrand Factor
Histopathology assessment of tissue of origin by board-certified pathologist; NAS* and fibrosis stage** provided
Offered at Passage 0 and Passage 1
Vials of cryopreserved cells shipped and stored at ≤-135°C
*NAFLD (Non-Alcoholic Fatty Liver Disease) score (NAS) was assigned according to the standards of the NASH CRN Scoring System (Hepatology 41: 1313-1321, 2005).
**Inflammation and fibrosis were assessed using standard Batts-Ludwig scoring methodology (Scale, 0-4, American Journal of Surgical Pathology 19: 1409-1417, 1995).
Liver Endothelial Cells are suitable for a range of applications, including
 Target identification
 Lead candidate screening
 Preclinical screening and testing
 Liver disease modeling, including Non-Alcoholic Steatohepatitis (NASH)
 Organotypic culture models – Co-cultures, 3D models
 Cell-cell signaling
 Mechanistic studies of Drug-Induced Liver Injury (DILI)
Phenotypic Stability Maintained with Serial Passage
Flow cytometric analysis reveals retention of key markers over serial passage in vitro.
Endothelial cell markers, CD31 and von Willebrand factor (vWF), are expressed at a high level, generally >80% of the population, and not diminished with subculture.

Consistently high expression level of CD34 is detected as well. LifeSciences' liver endothelial cells also express LYVE1 and a subpopulation, usually <50%, express CD299 (L-SIGN) – both markers associated with sinusoidal endothelial cells. Expression of CD45 and CD146 is minimal in cultured endothelial cells, typically >10% of the total population.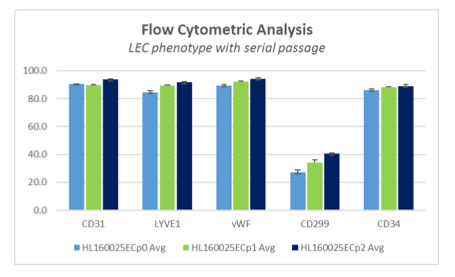 Comprehensive Portfolio of Liver Cells