Image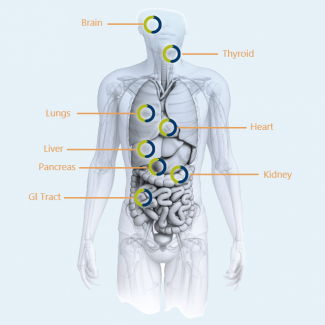 Body
LifeNet Health LifeSciences Human Biospecimens for research supports the advancement of science and medicine by providing researchers with both healthy and diseased tissues. Research tissues are from fully authorized donors whose gifts were not suitable for clinical transplantation.

These resources help fulfill unmet needs across pharmaceutical, biotech, academic, and government sectors while honoring the donors' desire to improve lives through scientific discovery.
Industry-leading recovery, transport, and handling protocols ensure tissue integrity is consistently maintained and adheres to the highest standards
Comprehensive donor medical and social history provided
Recovery of tissues with low post-mortem interval (PMI) from 1-24 hours
Broad range of donated tissue recovery capabilities
Access to technical expertise and guidance from LifeSciences' team of scientists
Negative or non-reactive test results for HIV-I/II, HBV, HCV (including NAT testing), RPR/STS
Custom sample collection methodologies available
Preservation formats include:
- Fresh samples - Mirrored pairs - OCT embedding - Formalin fixed - Snap frozen - RNAlater®
RNAlater is a registered trademark of Ambion, Inc.
Human Biospecimens are suitable for multiple applications, including:
Cell isolation
Cell culture
Genomic and proteomic testing
Sequencing

Organotypic culture models – Co-cultures, 3D models