Microphysiological System
Image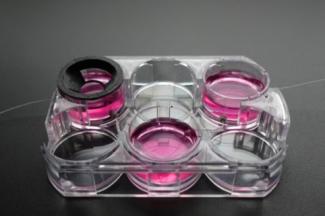 LifeNet Health LifeSciences' HuDMOP® microphysiological system (MPS) is available for use in our drug or chemical screening services. HuDMOP stands for Human Dynamic Multiple Organ Plate and uses human tissues representative of specific organs cultured in a mesoscale plate. Organs represented by 2D or 3D cells and tissues are connected to one another via a simulated blood system. This flexible system provides superior, human-relevant data about the systemic impacts of a compound without in vivo testing.
This unique MPS format is the next step from organ-on-a-chip systems. Each compartment contains growth media optimal for the specific tissue or cell type. There is no net exchange of fluid between organ compartments. Organ-to-organ contact occurs via a semipermeable membrane incorporated into the simulated blood flow.

This state-of-the-art system has addressed many of the issues that have plagued other platforms. HuDMOP is physiologically correct, simple in construction, and affordable to use. The system is flexible to meet the experimental design needs of the customer. In fact, the ability to study two, three, or four organ systems is now possible. The cell or tissue models used in the system are well characterized, and the data obtained can be tailored to answer researcher's questions. HuDMOP allows generation of preclinical toxicity data with increased speed and accuracy, enabling understanding of interactions between key organ systems, and allows the compilation of pharmacokinetic and pharmacodynamic (PBPK) data sets. 
This flexible system offers a method of identifying the pharmacokinetics of a test compound not just on the single organ, but on interconnected organ systems. Its main benefits are:
Gain human-relevant, physiologically correct data in vitro
Understand compound movement in a simulated blood flow
Understand the metabolism and toxicity of a test compound
Develop pharmacokinetic and toxicokinetic parameters
Study the downstream effect of compounds on multiple organs
Develop PBPK models
Below is a list of common microphysiological system screens used by customers:
Intestine-Liver
Intestine-Liver-Kidney
Skin-Liver
Skin-Liver-Kidney
Lung-Liver
Lung-Liver-Kidney
Lung (apical)-Liver-Lung (basolateral)